If you're looking for an alternative or adjunct to standard medicine, you're in luck. Renaissance Wellness, serving East Aurora, NY, and the nearby region, is home to Nicole Insinna, who offers homeopathy and TBA analysis, as well as The Zyto analysis system. But before you book an appointment, this information will assist you in making a decision.

General Information
Homeopathy is a form of medicine that consists of using natural methods to encourage your body to heal as it was designed to do. During a homeopathy treatment, your practitioner will provide you with small amounts of natural ingredients that help stimulate this process.
The tinctures used in homeopathy may come in tablet, gel, cream, sugar pellet, or liquid drop form.
Why Homeopathy
Your body is naturally designed to heal on its own. Let's take your immune system, for example. It's essentially your body's army, fighting against any harmful invaders. Even when you sustain an injury, it triggers your immune system to respond. Rather than put a foreign substance in your body that masks symptoms, homeopathy focuses on strengthening your body to ward off problems now and in the future.
If you have strong convictions about using unnatural substances in your body, this is an option for you since all ingredients come from nature in some way, shape, or form. While this doesn't eliminate the possibility of a reaction, it does feel good for some people to know they're not inputting a chemical-based substance into their body that's more likely to cause an allergic response.
Homeopathy has a long history of use dating back to Germany in the late 1700s.
Applications of Homeopathy
When you visit our East Aurora, NY, office, Nicole will listen carefully to your symptoms and perform a comprehensive evaluation to determine the problem. Then she will suggest a course of action that'll let your body work its best and correct the issue through natural means.
One common reason we use this treatment is for migraines. It's also beneficial for those with allergies, rheumatoid arthritis, irritable bowel syndrome (IBS), and more. We can even use it to help curve the symptoms of a cold.
TBA (Total Body Analysis)
This is a branch of Homeopathy that utilizes kinesiology (muscle testing) to analyze body systems and derive a treatment plan including various homeopathic remedies and supplements.
Zyto Analysis System
This computerized tool uses some of the same basic principles as a polygraph, but instead of determining if your are telling a lie, it quizzes your body regarding health concerns and it can even determine if you are taking the appropriate supplements.
Call 716-655-2300 today.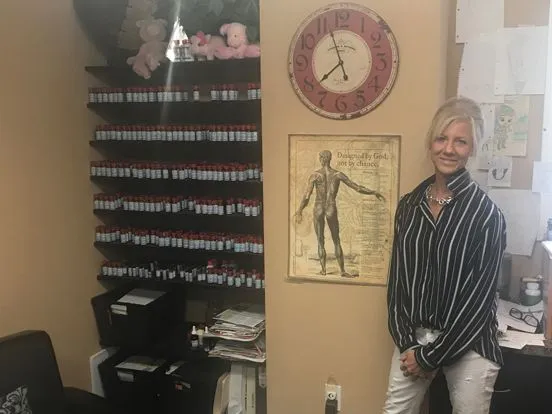 Homeopathy is a medical science developed by Dr. Samuel Hahnemann, a German physician. It is based on the premise that "Like Cures Like". In other words, it means that any substance that produces symptoms in a healthy person, can alleviate similar symptoms in a sick person. For example: Poison Ivy causes redness, intense itching, burning, blistering, and occasionally muscle stiffness. Doctors of Homeopathy use it for everything from herpes and burns to eczema and arthritis, with great results! This idea is referred as "The Law of Similars", and although it was understood by Aristotle and Hippocrates, it was developed into a science of healing by Dr. Hahnemann.
A second principle of homeopathy is that the doctor should use the least amount of a medicine (remedy) necessary to evoke a healing response. This is called the "Minimum Dose". We all know that conventional medicines can cause side effects leading to much suffering or even death. In an effort to prevent such side effects, Dr. Hahnemann began using a scientific procedure called, "Successive Dilution with Agitation" to develop his remedies. He did this to find the point at which they would be therapeutically effective, yet do no harm to the patient. This healing art has been used successfully all over the world for over a century.